INTRODUCTION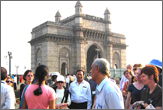 Founded by city architects, Abha Bahl and Brinda Gaitonde Nayak, THE BOMBAY HERITAGE WALKS (BHW) group has been organising walking tours around the city's heritage precincts since April 1999. The walks aim to raise the awareness of the people of Mumbai and visitors, about the city's architecture and heritage monuments.
Personalized, educative and enjoyable, the walking tours highlight a vast range of architectural styles, construction methods and materials, planning elements and ornamental details. The spatial, social and cultural history of the city is brought to life through fascinating stories and anecdotes. Our walks attempt to bridge "heritage" and "contemporary" aspects of Mumbai to create meaningful and memorable experiences for participants.
At BHW, we firmly believe that one cannot experience the multitude of architectural styles and heritage precincts by merely traversing the city in a car or by leafing through travel brochures or guidebooks. The real essence of Mumbai can only be discovered on foot and with someone who is knowledgeable about the city – its people, its history, its architecture, its culture and intimately familiar with its streets.
OUR WALKS ARE RECOMMENDED BY









TRAVEL SITES ON THE WEB







TESTIMONIALS
"One of the highlights of our trip was the excellent Heritage tour that you gave my family and me...I am happy to recommend you and the Bombay Heritage Walks with enthusiasm to anyone who visits the Mumbai area."

Prof. Howard Gardner, Harvard University, USA January 2012

"My friend and I would like to thank you for a very pleasant afternoon we could enjoy with our guide. He really had lots of interesting information for us, it was a nice group altogether, and we will always recommend this walk to our friends!"

Regine Proebsting, Germany (1st April 2010)

It was the best tour we took in Mumbai. I thoroughly enjoyed the walk....I would highly recommend your tours to others."

Joan Sourapas, U.S.A. (18th March 2010)

"I wanted to use this opportunity to compliment you on the organisation of these walks, your guides were very well informed and excellent public speakers!"

Dr. Alicia Schrikker, U.K. (9th February 2010)

"Fantastic walk yesterday thanks. Brilliant guide and a very interesting route JAMIE STEVENSON."

British expat, New Delhi (9 Dec 2012)
Read More